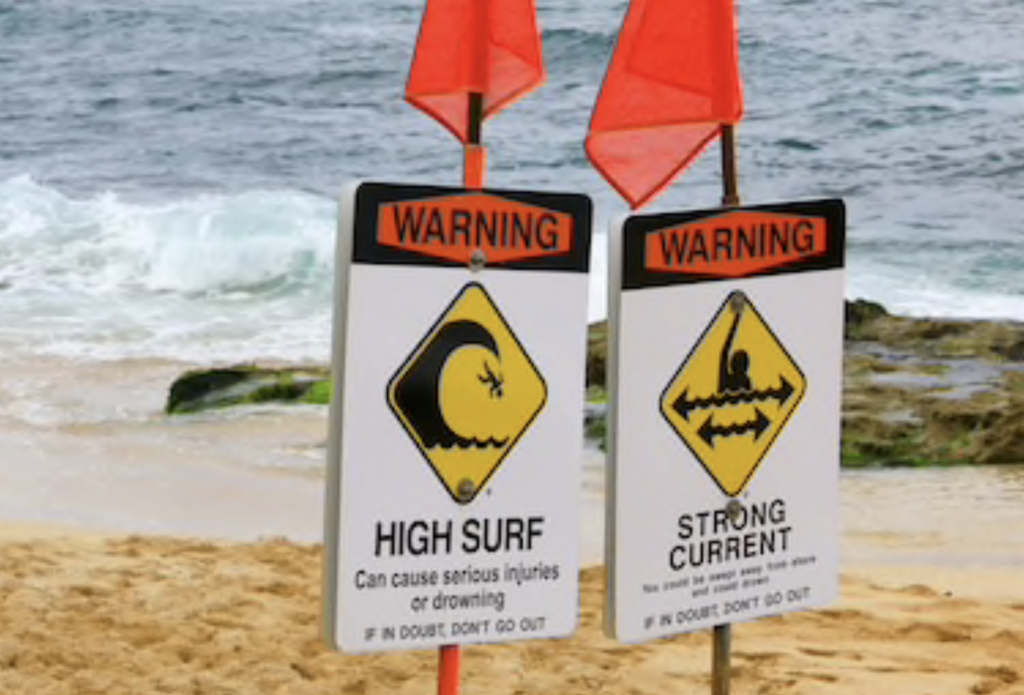 The beauty of Hawaii's ocean waters plays a large role in the appeal of this amazing island chain.
Oftentimes the water looks calm and safe, but beneath the spectacular scenery, the ocean can also be extremely unpredictable and dangerous.
Each island is uniquely beautiful in its own right, but also comes with its own unique safety measures. Here at Home Watch Hawaii, we want to help you get prepared.
No matter what island you are visiting, here are a few basics to keep you and your loved ones safe while still being able to enjoy the incredible beaches of Hawaii.
#1 KNOW YOUR HEALTH LIMITS
It's important to know your current health and fitness condition before going into the ocean. Certain individuals have a higher risk of injury when participating in any kind of physical activity, including ocean-related activities. If you don't exercise on a regular basis, or if you have health issues or concerns, talk to your doctor before you participate in any ocean activity. Consult with your doctor if you have any of the following health concerns:
Heart disease or stroke
High blood pressure
Asthma or other lung related issue
Kidney disease
Arthritis
Pain, discomfort or pressure in your chest during physical activity or at rest
Pain in your neck, jaw, or arms during physical activity
Dizziness, lightheadedness, fainting or loss of consciousness
Shortness of breath while at rest
Rapid or pronounced heartbeat
Heart murmur
You're overweight/out of shape
If you are unsure of your health or fitness level, have other health related issues or are pregnant, speak with your doctor prior to participating in any ocean activities. IF IN DOUBT, DON'T GO OUT.
#2 SWIM AT A LIFEGUARDED BEACH
When choosing a beach for the day, always select a beach with a lifeguard on duty. Strong currents, shorebreak waves, and the changing seasons can also affect how dangerous a beach can be. Understanding these conditions can help you pick the right beach for your skill level and the activities you want to do.
Also pay attention to posted warning signs such as High Surf, Strong Currents, and Dangerous Shorebreak.
Strong Currents are powerful and fast-moving channels of water that can be extremely difficult to swim against. Learn how to avoid them, and what you should do if you get caught in one.

Stay calm and don't panic. Currents will generally not pull you under the water.

Conserve your energy. Regulate your breathing and minimize any erratic movement. Float on your back or front.

Even if the current moves you further away from shore, go with the flow rather than fight/swim against the current and becoming exhausted.
Swim parallel to the shore until you are out of the current, then and only then, swim towards shore.
Signal for help by yelling towards the shore and waving your arms.
Dangerous Shorebreak are waves that break directly onshore and are the leading cause of neck and back injuries to both experienced and inexperienced bodysurfers and swimmers. Shorebreak at Hawaii beaches can be stronger and more dangerous than in other parts of the world, even when the surf is small. In fact, the average wave height when a spinal cord injury occurs is 3 feet.

If you do go into the water during strong shorebreak, pay attention as you enter the water.
Never dive into shorebreak head first – this could cause the wave to drive you into the ocean floor resulting in serious injury.
Duck under oncoming waves (Do Not Dive Under).
Always speak to a lifeguard prior to entering the water as conditions may change quickly.
If you get caught in strong shorebreak, remain calm. Try to get a breath of air in between incoming waves, and protect your head and neck with your arms.
High Surf can vary dramatically depending on the season. A beach can be calm and gentle during the summer months, but rough and dangerous in the winter months. The Hawaiian Islands are also in the middle of the Pacific Ocean which make them susceptible to storms and hurricanes which bring high surf to different parts of each island.
Summer months are May through October.

Summer typically means calmer waters on all beaches.
However, larger swells can happen on south shores, generated by winter storms in the southern hemisphere.

Winter months are November through April.

You can expect extremely high surf at many north and west shore beaches during the winter months.
Powerful Pacific storms to the north drive huge swells towards the islands, creating the big waves Hawaii is known for.
Waves generated from these storms can create dangerous and unpredictable conditions.
#3 SNORKELING SAFELY
If you intend to go snorkeling in Hawaii, you should be an experienced ocean swimmer familiar with the risks and dangers associated with high surf, strong currents, and waves breaking in shallow water.
Take the time before you go to familiarize yourself with the equipment you will be using. Traditional snorkeling gear consists of a snorkel, mask and fins. You should learn how to clear your snorkel if it becomes filled with water. There are various snorkel types which have different ways to clear the water from the tube.
Consider going on a snorkel tour or taking a snorkeling course from a certified instructor. You can also rent equipment from a reputable, licensed company, and ask for a demonstration on how to properly use the equipment. It's also highly recommended to use a floatation device appropriate for snorkeling, such as a floating vest or belt, to help you stay afloat.
#4 BEACH SAFETY FOR THE ENTIRE FAMILY
The beach can be fun for everyone, but there are certain precautions to take when bringing the family, especially young children near the ocean. Here are tips to help keep your family safe at the beach.
Educate your child about ocean safety including topics such as strong currents, rip tides, and shorebreak to help them understand how powerful the ocean can be.
Take your family to a lifeguarded beach and be sure to obey all instructions and advice. Point out the lifeguard tower to your child as well.
Have a responsible adult supervise your children at ALL TIMES. That person should either be in or near the water at all times as well.
Children can quickly drown, even in very shallow water. Never leave a child unattended as conditions at the beach can change quickly, and do not depend solely on lifeguards to "babysit" your children. Do not let older children watch younger children at the beach. Adults should avoid distractions, such as phones or digital devices, while supervising children near the water.
Drowning victims, especially children, rarely are able to call for help or wave their arms. They may appear to be treading water while looking up. Other signs of drowning include:

Head low in the water, mouth at water level
Head tilted back with mouth open
Eyes glassy and empty, unable to focus
Eyes closed
Hair over forehead or eyes
Not using legs – Vertical
Hyperventilating or gasping
Trying to swim in a particular direction but not making headway
Trying to roll over on the back
Appear to be climbing an invisible ladder

Remember, children who are playing in the water make noise. If they get quiet, get to where they are and find out why.
Avoid beaches with heavy shorebreak.
Use extreme caution when using flotation devices or beach toys. Floatation devices such as pool floats, inner tubes and even beach balls, can easily be carried out into deeper water, taking your child with them. Although these devices are designed to float, they can still be flipped over by a wave, creating a potential drowning hazard.